Developer: StataCorp LLC
Latest Release: Stata 15 (June 2017)
Operating System: Windows, macOS, Linux
New Stata 15 – Extended Regression Models / Spatial Autoregressive Models / Linearized DSGE / Embed Stata results, graphs in Word and PDF documents, Markdown to HTML / Transparent Graphics and a lot more…
End User License Agreement
Intuitive · Powerful · Complete
Stata is a complete, integrated statistical software package that provides everything you need for data analysis, data management, and graphics.
Fast, accurate, and easy to use

With both a point-and-click interface and a powerful, intuitive command syntax, Stata is fast, accurate, and easy to use.

All analyses can be reproduced and documented for publication and review. Version control ensures statistical programs will continue to produce the same results no matter when you wrote them. See certification results and FDA document compliance for accuracy details.


Stata's graphical user interface
Broad suite of statistical features
Stata puts hundreds of statistical tools at your fingertips;
From standard methods, such as:
Basic tabulations and summaries,
Case-control analysis,
ARIMA,
ANOVA and MANOVA,
Linear regression,
Time-series smoothers,
Generalized linear models, (GLM)
Cluster analysis,
Contrasts and comparisons,
Power analysis,
Sample selection,
to advanced techniques, such as:
Multilevel models,
Survival models with frailty,
Dynamic panel data (DPD) regressions,
SEM (Structural equation modeling),
Binary, count, and censored outcomes,
ARCH,
Multiple imputation,
Survey data,
Treatment effects,
Exact statistics,
Bayesian analysis,
Matrix programming with Mata
Mata is a full-blown programming language that compiles what you type into bytecode, optimizes it, and executes it fast.Though you don't need to program to use Stata, it is comforting to know that a fast and complete matrix programming language is an integral part of Stata. Mata is both an interactive environment for manipulating matrices and a full development environment that can produce compiled and optimized code. It includes special features for processing panel data, performs operations on real or complex matrices, provides complete support for object-oriented programming, and is fully integrated with every aspect of Stata. We don't just write statistical methods, we validate them. The results you see from a Stata estimator rest on comparisons with other estimators, Monte-Carlo simulations of consistency and coverage, and extensive testing by our statisticians. Every Stata we ship has passed a certification suite that includes 2.3 million lines of testing code that produces 4.3 million lines of output. We certify every number and piece of text from those 4.3 million lines of code. Technical supportStata technical support is free to registered users. And, this is a case of getting much more than you pay for.We have a dedicated staff of expert Stata programmers and Statisticians to answer your technical questions. From tricky data management solutions to getting your graph looking just right. From explaining a robust standard error to specifying your multilevel model. We have your answers.Extensible Resources Community
Complete data-management facilities
Stata's data-management features give you complete control of all types of data.
You can combine and reshape datasets, manage variables, and collect statistics across groups or replicates. You can work with byte, integer, long, float, double, and string variables (including BLOBs and strings up to 2 billion characters). Stata also has advanced tools for managing specialised data such as survival/duration data, time-series data, panel/longitudinal data, categorical data, multiple-imputation data, and survey data.
Data Editor
Publication-quality graphics
You can write scripts to produce hundreds or thousands of graphs in a reproducible manner and export them to EPS or TIF for publication, to PNG for the web, or to PDF for viewing. With the integrated Graph Editor you click to change anything about your graph or to add titles, notes, lines, arrows, and text.
Regression fit graphs
Distributional plots
Time-series graphs,
Survival plots
Contour plots
Stata makes it easy to generate publication-quality, distinctly styled graphs.
Real documentation
When it comes time to perform your analyses or understand the methods you are using, Stata does not leave you high and dry or ordering books to learn every detail.
Each of our data management features is fully explained, and documented, and shown in practice on real examples. Each estimator is fully documented and includes several examples on real data, with real discussions of how to interpret the results. The examples give you the data so you can work along in Stata and even extend the analyses. We give you Quick Starts for every feature showing some of the most common uses. Want even more detail, our Methods and Formulas sections provide the specifics of what is being computed and our References point you to even more information.
Stata is a big package and so has lots of documentation – over 14,000 pages in 27 volumes. But don't worry, type help my topic and Stata will search its keywords, indices, and even user-written packages to bring you everything you need to know about your topic. Everything is available right within Stata.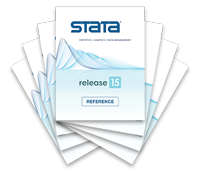 Cross-platform compatible
Stata will run on Windows, Mac and Linux/Unix computers; however, licenses are not platform specific.
That means if you have a Mac laptop and a Windows desktop, you don't need two separate licenses to run Stata. You can install your Stata license on any of the supported platforms. Stata datasets, programs, and other data can be shared across platforms without translation. You can also quickly and easily import datasets from other statistical packages, spreadsheets, and databases.
Stata Journal
The Stata Journal is a quarterly publication containing articles about statistics, data analysis, teaching methods, and effective use of Stata's language. The Journal publishes reviewed papers together with shorter notes and comments, regular columns, book reviews, and other material of interest to researchers applying statistics in a variety of disciplines.
Stata Press
Stata Press® publishes books, manuals, and journals about Stata and general statistics topics for professional researchers of all disciplines. Stata Press® publications are available to purchase in our Bookshop
Stata News
The StataNews is a free quarterly publication containing articles on using Stata, announcements of newreleases and updates, training schedules, new books, Conferences and Users Group meetings, new products, and other announcements of interest to Stata users.
Stata Blog
The offical Stata Blog, Not Elsewhere Classified (NEC), will keep you up to date about all thingsrelated to Stata, including product announcements, service announcements such as on-site and public training, and timely tips and comments related to the use of Stata. Individually signed, the articles in NEC are written by the same people who develop, support, and sell Stata. NEC is informal but useful, and even entertaining.
Training
There are a multitude of training options available to become proficient at Stata quickly. Stata provides hands-on public training courses, customized on-site training courses, and online training through NetCourses and video tutorials.
Video Tutorials
Stata's YouTube channel is the perfect resource for new users to Stata, users wanting to learn a new feature in Stata, and professors looking for aides in teaching with Stata.
Stata Conference and UGM's
Whether you are a beginner or an expert, you will find something just for you at the Users Group meetings (UGM's), which are held each year in various locations around the world. These meetings showcase in-depth presentations from StataCorp experts and experienced Stata users that focus on helping you use Stata more effectively.
A great resource for users is Statalist, a forum where more than 23,000 Stata users exchange over 35,000 postings and responses each month. Statalist is run and moderated by Stata users and maintained by StataCorp.
User comments
Our users love to share how great Stata is, so we'd like to show you! If you think Stata is great too, send us an email with your comment and we may share it with the Stata community.
While we provide customer support through our local office, you can view pricing and order online with electronic delivery by visiting timberlake.co.uk's Stata
pricing page
Stata 15 is a complete, integrated statistical package that provides everything you need for data analysis, data management, and graphics. Stata is not sold in modules, which means you get everything you need in one package. And, you can choose a perpetual licence, with nothing more to buy ever. Annual licences are also available.
Whether you're a student or a seasoned research professional, a range of Stata packages are available and designed to suit all needs.
All of the following flavours of Stata have the same complete set of commands and features and manuals included as PDF documentation within Stata.

Stata/MP is the fastest and largest version of Stata. Most computers purchased since mid 2006 can take advantage of the advanced multiprocessing of Stata/MP. This includes the Intel Core™ 2 Duo, i3, i5, i7, and the AMD X2 dual-core chips. On dual-core chips, Stata/MP runs 40% faster overall and 72% faster where it matters – on the time-consuming estimation commands. With more than two cores or processors, Stata/MP is even faster.
Stata/MP provides the most extensive support for multiprocessor computers and multicore computers of any statistics and data-management package.
The exciting thing about Stata/MP is that it runs faster—much faster. Stata/MP lets you analyse data in one-half to two-thirds of the time compared with Stata/SE on inexpensive dual-core desktops and laptops and in one-quarter to one-half the time on quad-core desktops. Stata/MP runs even faster on multiprocessor servers. Stata/MP supports up to 64 processors/cores.
In a perfect world, software would run twice as fast on two cores, four times as fast on four cores, eight times as fast on eight cores, and so on. Across all commands, Stata/MP runs 1.7 times faster on two cores, 2.4 times faster on four cores, and 3.2 times faster on eight cores. These values are median speed improvements. Half the commands run even faster.
On the other side of the distribution, a few commands do not run faster, often because they are inherently sequential, such as time-series commands.
Stata worked hard to make sure that the performance gains for commands that take longer to run would be greater. Across all estimation commands, Stata/MP runs 1.9 times faster on two cores, 3.1 times faster on four cores, and 4.1 times faster on computers with eight cores.
Stata/MP is 100% compatible other versions of with Stata. Analyses do not have to be reformulated or modified in any way to obtain Stata/MP's speed improvements.
Stata/MP is available for the following operating systems:
Windows (32- and 64-bit processors);
macOS (64-bit Intel processors);
Linux (32- and 64-bit processors);
Solaris (64-bit SPARC and x86-64).
To run Stata/MP, you can use a desktop computer with a dual-core or quad-core processor, or you can use a server with multiple processors. Whether a computer has separate processors or one processor with multiple cores makes no difference. More processors or cores makes Stata/MP run faster.
For more advice on purchasing/upgrading to Stata/MP or for hardware queries, please contact our sales team.

Stata/SE and Stata/IC differ only in the dataset size that each can analyse. Stata/SE and Stata/MP can fit models with more independent variables than Stata/IC (up to 10,998). Stata/SE can analyse up to 2 billion observations.

Stata/IC allows datasets with as many as 2,048 variables. The maximum number of observations is 2.14 billion. Stata/IC can have at most 798 independent variables in a model.
Comparison of features
Product Features
Stata/IC
Stata/SE
Stata/MP
Maximum number of variables
Maximum number of observations
Maximum number of independent variables
Multicore support
Time to run logistic regression with 5 million obs and 10 covariates Info
Complete suite of statistical features
Publication-quality graphics
Matrix programming language
Complete PDF documentation
Exceptional technical support
Includes within-release updates
For Business License terms and options please click here.
For Educational License terms and options please click here.
New Features in Stata 15
Stata 15 has something for everyone. Below we list the highlights of the release. This release is unique because most of the new features can be used by researchers in every discipline.
There are many video tutorials in using Stata. Below you will find the most recent additions that relate to Stata 15, as well as a list of all other resources currently available.
Quick tips
| | | |
| --- | --- | --- |
| | | |
| Converting string variables to numeric | Partial dataset | How to download and install Stata for Windows |
Tour of Stata 15
Tour of the Stata 15 interface
PDF documentation in Stata 15
Bayesian analysis in Stata
Censored Poisson regression in Stata
Endogenous treatment effects in Stata
Graphical user interface for Bayesian analysis in Stata
IRT (item response theory) models in Stata
Japanese and Spanish interface in Stata
Markov-switching models in Stata
Multilevel models for survey data in Stata
Multilevel survival analysis in Stata
New power and sample-size features in Stata
Panel-data survival models in Stata
Postestimation Selector in Stata
Regression models for fractional data in Stata
Satorra–Bentler adjustments for SEM
Small-sample inference for mixed-effects models in Stata
Survey data support for SEM in Stata
Survival models for SEM in Stata
Treatment effects for survival models in Stata
Unicode in Stata
Below you will find a list of all video tutorial resources available. The links will take you to YouTube.
Stata basics
Data management
Graphics
Bayesian analysis
Binary, count, and fractional outcomes
Case–control studies
Classical hypothesis tests
Descriptive statistics, tables, and cross-tabulations
Econometrics
Effect sizes
Factor variables
Immediate commands
IRT (item response theory)
Marginal means, predictive margins, and contrasts
Multilevel mixed-effects models
Multiple imputation
Panel data
Power and sample size
Structural equation modeling
Survey data analysis
Survival analysis
Time series
Treatment effects
All versions of Stata run on dual-core, multi-core and multi-processor computers.
Stata for Windows
Windows 10 *
Windows 8 *
Windows 7 *
Windows Vista *
Windows Server 2012 *
Windows Server 2008 *
Windows Server 2003 *
Windows Server 2016 *
* 64-bit and 32-bit Windows varieties for x86-64 and x86 processors made by Intel® and AMD.
Stata for Mac
Stata for macOS requires 64-bit Intel® processors (Core™2 Duo or better) running macOS 10.9 or newer
Stata for Unix
Linux: Any 64-bit (x86-64 or compatible) or 32-bit (x86 or compatible) running Linux.
Hardware requirements
Minimum of 1 GB of RAM for Stata/IC, 2GB for Stata/SE and 4GB for Stata/MP
Minimum of 1 GB of disk space for all versions
Stata for Unix requires a video card that can display thousands of colours or more (16-bit or 24-bit colour)
Stata 15 Documentation
Every installation of Stata includes all the documentation in PDF format. Stata's documentation consists of over 14,000 pages detailing each feature in Stata including the methods and formulas and fully worked examples. You can transition seamlessly across entries using the links within each entry.
Stata 15 Manuals
The Stata 15 documentation is copyright of StataCorp LP, College Station TX, USA, and is used with permission of StataCorp LP.
Students may purchase Stata/MP, Stata/SE, Stata/IC and Small Stata at a discounted price through the Stata GradPlan programme. For more information about available licence types, click here.
Find out all about Stata's expansive range of statistical features using the table of contents below. Each section links to further details and examples to help users get the best out of their software.
Linear Models
regression
censored outcomes
endogenous regressors
bootstrap, jackknife, and robust and cluster–robust variance
instrumental variables
three-stage least squares
constraints
quantile regression
GLS
Time Series
ARIMA
ARFIMA
ARCH/GARCH
VAR
VECM
multivariate GARCH
unobserved components model
dynamic factors
state-space models
Markov-switching models
business calendars
correlograms
periodograms
forecasts
impulse-response functions
unit-root tests
filters and smoothers
rolling and recursive estimation
Data Management
data transformations
match-merge
import/export data
ODBC
SQL
XML
by-group processing
append files
sort
row–column transposition
labeling
saving results
Longitudinal data/panel data
random and fixed effects with robust standard errors
linear mixed models
random-effects probit
GEE
random- and fixed-effects Poisson
dynamic panel-data models
instrumental variables
panel unit-root tests
Graphics
line charts
scatterplots
bar charts
pie charts
hi–lo charts
contour plots
GUI Editor
regression diagnostic graphs
survival plots
nonparametric smoothers
distribution Q–Q plots
Graphical user interface
menus and dialogs for all features
Data Editor
Variables Manager
Graph Editor
Project Manager
Do-file Editor
Clipboard Preview Tool
multiple preference sets
Documentation
27 manuals
14,000+ pages
seamless navigation
thousands of worked examples
quick starts
methods and formulas
references
Basic statistics
summaries
cross-tabulations
correlations
z and t tests
equality-of-variance tests
tests of proportions
confidence intervals
factor variables
Other statistical methods
kappa measure of interrater agreement
Cronbach's alpha
stepwise regression
tests of normality
Functions
statistical
random-number
mathematical
string
date and time
Internet capabilities
ability to install new commands
web updating
web file sharing
latest Stata news
User-written commands
user-written commands for meta-analysis, data management, survival, econometrics.
Programming features
adding new commands
command scripting
object-oriented programming
menu and dialog-box programming
Project Manager
plugins
Matrix programming—Mata
interactive sessions
large-scale development projects
optimization
matrix inversions
decompositions
eigenvalues and eigenvectors
LAPACK engine
real and complex numbers
string matrices
interface to Stata datasets and matrices
numerical derivatives
object-oriented programming
Embedded statistical computations
Installation Qualification
IQ report for regulatory agencies such as the FDA
installation verification
Accessibility
Section 508 compliance, accessibility for persons with disabilities
Survival analysis
Kaplan–Meier and Nelson–Aalen estimators,
Cox regression (frailty)
parametric models (frailty, random effects)
competing risks
hazards
time-varying covariates
left- and right-censoring, Weibull, exponential, and Gompertz models
Bayesian analysis
thousands of built-in models
univariate and multivariate models
linear and nonlinear models
continuous, binary, ordinal, and count outcomes
continuous univariate, multivariate, and discrete priors
add your own models
adaptive Metropolis–Hastings sampling
Gibbs sampling
convergence diagnostics
posterior summaries
hypothesis testing
model comparison
Power and sample size
power
sample size
effect size
minimum detectable effect
means
proportions
variances
correlations
ANOVA
case–control studies
cohort studies
contingency tables
survival analysis
balanced or unbalanced designs
results in tables or graphs
Treatment effects
inverse probability weight (IPW)
doubly robust methods
propensity score matching
regression adjustment
covariate matching
multilevel treatments
endogenous treatments
average treatment effects (ATEs)
ATEs on the treated (ATETs)
potential-outcome means (POMs)
continuous, binary, count, fractional, and survival outcomes
SEM (structural equation modeling)
graphical path diagram builder
standardized and unstandardized estimates
modification indices
direct and indirect effects
continuous, binary, count, ordinal, and survival outcomes
multilevel models
random slopes and intercepts
factors scores, empirical Bayes, and other predictions
groups and tests of invariance
goodness of fit
handles MAR data by FIML
correlated data
survey data
Latent class analysis
binary, ordinal, continuous, count, categorical, fractional, and survival items
add covariates to model class membership
combine with SEM path models
expected class proportions
goodness of fit
multilevel models
predictions of class membership
Multiple imputation
nine univariate imputation methods
multivariate normal imputation
chained equations
explore pattern of missingness
manage imputed datasets
fit model and pool results
transform parameters
joint tests of parameter estimates
predictions
Survey methods
multistage designs
bootstrap, BRR, jackknife, linearized, and SDR variance estimation
poststratification
DEFF
predictive margins
means, proportions, ratios, totals
summary tables
regression, instrumental variables, probit, Cox regression
Cluster analysis
hierarchical clustering
kmeans and kmedian nonhierarchical clustering
dendrograms
stopping rules
user-extensible analyses
IRT (item response theory)
binary (1PL, 2PL, 3PL), ordinal, and categorical response models
item characteristic curves
test characteristic curves
item information functions
test information functions
differential item functioning (DIF)
Multivariate methods
factor analysis
principal components
discriminant analysis
rotation
multidimensional scaling
Procrustean analysis
correspondence analysis
biplots
dendrograms
user-extensible analyses
Nonparametric methods
Wilcoxon–Mann–Whitney, Wilcoxon signed ranks, and Kruskal–Wallis tests
Spearman and Kendall correlations
Kolmogorov–Smirnov tests
exact binomial CIs
survival data
ROC analysis
smoothing
bootstrapping
Epidemiology
standardization of rates
case–control
cohort
matched case–control
Mantel–Haenszel
pharmacokinetics
ROC analysis
ICD-10
Longitudinal data/panel data
random and fixed effects with robust standard errors
linear mixed models
random-effects probit
GEE
random- and fixed-effects Poisson
dynamic panel-data models
instrumental variables
panel unit-root tests
Multilevel mixed-effects models
continuous, binary, count, and survival outcomes
two-, three-, and higher-level models
generalized linear models
random-intercepts
random-slopes
crossed random effects
BLUPs of effects and fitted values
hierarchical models
residual error structures
DDF adjustments
support for survey data
Binary, count, and limited outcomes
logistic, probit, tobit
Poisson and negative binomial
conditional, multinomial, nested, ordered, rank-ordered, and stereotype logistic
multinomial probit
zero-inflated and left-truncated count models
selection models
marginal effects
Extended regression models (ERMs)
combine endodenous covariates, sample selection, and nonrandom treatment in models for continuous, interval-censored, binary, and ordinal outcomes
Generalized linear models (GLMs)
ten link functions
user-defined links
seven distributions
ML and IRLS estimation
nine variance estimators
seven residuals
Finite mixture models (FMMs)
fmm prefix for 17 estimators
mixtures of a single estimator
mixtures combining multiple estimators or distributions  • continuous, binary, count, ordinal, categorical, censored, truncated, and survival outcomes
Spatial autoregressive models
spatial lags of dependent variable, independent variables, and autoregressive errors
fixed and random effects in panel data
endogenous covariates
analyze spillover effects
ANOVA/MANOVA
balanced and unbalanced designs
factorial, nested, and mixed designs
repeated measures
marginal means
contrasts
Exact statistics
exact logistic and Poisson regression
exact case–control statistics
binomial tests
Fisher's exact test for r &times c tables
Linearized DSGE models
specify models algebraically
solve models
estimate parameters
identification diagnostics
policy and transition matrices
IRFs
dynamic forecasts
Tests, predictions, and effects
Wald tests
LR tests
linear and nonlinear combinations
predictions and generalized predictions
marginal means
least-squares means
adjusted means
marginal and partial effects
forecast models
Hausman tests
Contrasts, pairwise comparisons, and margins
compare means, intercepts, or slopes
compare to reference category, adjacent category, grand mean, etc.
orthogonal polynomials
multiple-comparison adjustments
graph estimated means and contrasts
interaction plots
GMM and nonlinear regression
generalized method of moments (GMM)
nonlinear regression
Simple maximum likelihood
specify likelihood using simple expressions
no programming required
survey data
standard, robust, bootstrap, and jackknife SEs
matrix estimators
Programmable maximum likelihood
user-specified functions
NR, DFP, BFGS, BHHH
OIM, OPG, robust, bootstrap, and jackknife SEs
Wald tests
survey data
numeric or analytic derivatives
Resampling and simulation methods
bootstrap
jackknife
Monte Carlo simulation
permutation tests