Developer: StataCorp LLC
Latest Release: Stata 16
Operating System: Windows, macOS, Linux
Novo no Stata – Modelos de regressão estendida / Modelos autorregressivos espaciais / Resultados Linearized DSGE / Embed Stata, gráficos em documentos Word e PDF, Markdown para HTML / Transparent Graphics e muito mais…
End User License Agreement
Rápido, preciso e fácil de usar

Com uma interface de apontar e clicar e uma poderosa e intuitiva sintaxe de comandos, o Stata é rápido, preciso e fácil de usar.

Todas as análises podem ser reproduzidas e documentadas para publicação e revisão. O controle de versão garante que os programas estatísticos continuem a produzir os mesmos resultados, independentemente de quando você os escreveu. Veja os resultados da certificação e a conformidade do documento da FDA para detalhes de precisão.


Stata's graphical user interface
conjunto amplo de recursos estatísticos
Stata coloca centenas de ferramentas estatísticas ao seu alcance:
Métodos padrão:
Basic tabulations and summaries,
Case-control analysis,
ARIMA,
ANOVA and MANOVA,
Linear regression,
Time-series smoothers,
Generalized linear models, (GLM)
Cluster analysis,
Contrasts and comparisons,
Power analysis,
Sample selection,
Técnicas avançadas :
Multilevel models,
Survival models with frailty,
Dynamic panel data (DPD) regressions,
SEM (Structural equation modeling),
Binary, count, and censored outcomes,
ARCH,
Multiple imputation,
Survey data,
Treatment effects,
Exact statistics,
Bayesian analysis,
Programando com Mata
Mata é uma linguagem de programação completa que compila o que você digita em bytecode, otimiza-o e executa-o rapidamente. Embora não seja necessário programar para usar o Stata, é reconfortante saber que uma linguagem de programação de matriz rápida e completa é parte integrante do Stata. O Mata é um ambiente interativo para manipular matrizes e um ambiente de desenvolvimento completo que pode produzir código compilado e otimizado. Ele inclui recursos especiais para processar dados do painel, executa operações em matrizes reais ou complexas, fornece suporte completo para programação orientada a objetos e é totalmente integrado com todos os aspectos do Stata.
Confiável
Nós não apenas escrevemos métodos estatísticos, nós os validamos. Os resultados que você vê de um estimador Stata baseiam-se em comparações com outros estimadores, simulações de consistência e cobertura de Monte-Carlo e extensos testes por nossos estatísticos. Todos os Stata que enviamos passaram por um conjunto de certificações que inclui 2,3 milhões de linhas de código de teste que produzem 4,3 milhões de linhas de saída. Certificamos cada número e parte do texto desses 4,3 milhões de linhas de código. Suporte técnico O suporte técnico da Stata é gratuito para usuários cadastrados. E este é um caso de conseguir muito mais do que você paga.
Suporte técnico
Temos uma equipe dedicada de programadores e estatísticos especialistas em Stata para responder suas perguntas técnicas. De soluções de gerenciamento de dados complicadas para obter o seu gráfico com a aparência correta. Desde explicar um erro padrão robusto até especificar seu modelo multinível. Nós temos suas respostas.
Extensível
O Stata é tão programável que desenvolvedores e usuários adicionam novos recursos todos os dias para responder às crescentes demandas dos pesquisadores de hoje. Com os recursos de Internet do Stata, novos recursos e atualizações oficiais podem ser instalados pela Internet com um único clique.
Instalações completas de gerenciamento de dados
Os recursos de gerenciamento de dados do Stata oferecem controle completo de todos os tipos de dados.
Você pode combinar e remodelar conjuntos de dados, gerenciar variáveis e coletar estatísticas entre grupos ou replicações. Você pode trabalhar com variáveis de byte, inteiro, long, float, double e string (incluindo BLOBs e strings de até 2 bilhões de caracteres). O Stata também possui ferramentas avançadas para gerenciar dados especializados, como dados de sobrevivência / duração, dados de séries temporais, dados de painel / longitudinais, dados categóricos, dados de múltiplas imputações e dados de pesquisa.
Data Editor
Gráficos com qualidade de publicação
Você pode apontar e clicar para criar um gráfico personalizado ou pode escrever scripts para produzir centenas ou milhares de gráficos de maneira reproduzível. Exporte gráficos para EPS ou TIF para publicação, para PNG ou SVG para a Web ou para PDF para visualização. Com o editor de gráfico integrado, você clica para alterar qualquer coisa sobre seu gráfico ou para adicionar títulos, notas, linhas, setas e texto.
Regression fit graphs
Distributional plots
Time-series graphs,
Survival plots
Contour plots
Stata makes it easy to generate publication-quality, distinctly styled graphs.
Documentação real
Quando chega a hora de realizar suas análises ou entender os métodos que você está usando, o Stata não deixa você alto nem seco ou encomenda de livros para aprender cada detalhe.
Cada um dos nossos recursos de gerenciamento de dados é totalmente explicado e documentado e mostrado na prática em exemplos reais. Cada estimador é totalmente documentado e inclui vários exemplos de dados reais, com discussões reais sobre como interpretar os resultados. Os exemplos fornecem os dados para que você possa trabalhar no Stata e até mesmo estender as análises. Damos-lhe Início Rápido para cada recurso que mostra alguns dos usos mais comuns. Queremos ainda mais detalhes, nossas seções de Métodos e Fórmulas fornecem os detalhes do que está sendo calculado e nossas Referências direcionam você para mais informações.
O Stata é um pacote grande e, portanto, possui muita documentação – mais de 14.000 páginas em 27 volumes. Mas não se preocupe, digite help my topic e o Stata pesquisará suas palavras-chave, índices e até mesmo pacotes de contribuição da comunidade para trazer tudo o que você precisa saber sobre o seu tópico. Tudo está disponível diretamente no Stata.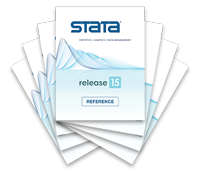 Compatível com plataforma cruzada
O Stata será executado em computadores Windows, Mac e Linux / Unix; no entanto, as licenças não são específicas da plataforma.
Isso significa que, se você tiver um laptop Mac e uma área de trabalho do Windows, não precisará de duas licenças separadas para executar o Stata. Você pode instalar sua licença Stata em qualquer uma das plataformas suportadas. Conjuntos de dados, programas e outros dados do Stata podem ser compartilhados entre plataformas sem tradução. Você também pode importar conjuntos de dados de outros pacotes, planilhas e bancos de dados estatísticos de maneira rápida e fácil.
Journal Stata
O Stata Journal é uma publicação trimestral que contém artigos sobre estatísticas, análise de dados, métodos de ensino e uso efetivo da linguagem do Stata. A Revista publica artigos revisados juntamente com notas e comentários mais curtos, colunas regulares, resenhas de livros e outros materiais de interesse para pesquisadores aplicando estatísticas em uma variedade de disciplinas.
Stata Press
A Stata Press® publica livros, manuais e periódicos sobre os tópicos de estatísticas gerais e estatísticos para pesquisadores profissionais de todas as disciplinas. As publicações da Stata Press® estão disponíveis para compra em nossa livraria.
Notícias Stata
The O Stata News é uma publicação gratuita contendo artigos sobre o uso do Stata, anúncios de novos lançamentos e atualizações, agendas de treinamento, novos livros, reuniões do Grupo de Usuários e Conferências, novos produtos e outros anúncios de interesse para os usuários do Stat
Blog Stata
O blog oficial da Stata, Not Another Classified (NEC), manterá você atualizado sobre todas as coisas relacionadas ao Stata, incluindo anúncios de produtos, anúncios de serviço como treinamento no local e público e dicas e comentários oportunos relacionados ao uso de Stata Assinados individualmente, os artigos na NEC são escritos pelas mesmas pessoas que desenvolvem, apoiam e vendem o Stata. O NEC é informal, mas útil e até divertido.
Treinamento
Há uma infinidade de opções de treinamento disponíveis para se tornar proficiente no Stata rapidamente. O Stata oferece cursos práticos de treinamento prático, webinars com uma hora de duração, cursos de treinamento personalizados no local e treinamento on-line através de NetCourses e tutoriais em vídeo.
Video Tutorials
Stata's YouTube channel is the perfect resource for new users to Stata, users wanting to learn a new feature in Stata, and professors looking for aides in teaching with Stata.
Conferência Stata e UGM's
Se você é um iniciante ou um especialista, você encontrará algo apenas para você nas reuniões do Grupo de Usuários (UGM's), que são realizadas todos os anos em vários locais ao redor do mundo. Essas reuniões mostram apresentações detalhadas de especialistas da StataCorp e usuários experientes do Stata que se concentram em ajudar você a usar o Stata com mais eficiência.
While we provide customer support through our local office, you can view pricing and order online with electronic delivery by visiting timberlake.co.uk's Stata
pricing page
Stata is a complete, integrated software package that provides all your data science needs—data manipulation, visualization, statistics, and reproducible reporting. O Stata não é vendido em módulos, é uma ferramenta completa num único pacote. Você pode escolher entre uma licença perpétua ou licenças anuais.
O Stata é comercializado em várias modalidades, com o mesmo conjunto completo de comandos e recursos. Descubra as suas diferenças

Stata/MP is the fastest and largest version of Stata. Most computers purchased since mid 2006 can take advantage of the advanced multiprocessing of Stata/MP.This includes the Intel i3, i5, i7, i9, Xeon, and Celeron, and AMD multi-core chips. On dual-core chips, Stata/MP runs 40% faster overall and 72% faster where it matters – on the time-consuming estimation commands. With more than two cores or processors, Stata/MP is even faster.
Stata/MP is faster—much faster. Stata/MP lets you analyse data in one-half to two- thirds of the time compared with Stata/SE on inexpensive dual-core desktops and laptops and in one-quarter to one-half the time on quad-core desktops and laptops.
Stata/MP runs even faster on multiprocessor servers. Stata/MP supports up to 64 processors/cores.
Speed is often most crucial when performing computationally intense estimation procedures. A few of Stata's estimation procedures, including linear regression, are nearly perfectly parallelized, meaning they run twice as fast on two cores, four times as fast on four cores, eight times as fast on eight cores, and so on. Some estimation commands can be parallelized more than others. Taken at the median, estimation commands runs 1.9 times faster on two cores, 3.1 times faster on four cores, and 4.3 times faster on eight cores.
Stata/MP is 100% compatible other versions of with Stata. Analyses do not have to be reformulated or modified in any way to obtain Stata/MP's speed improvements.
Stata/MP is available for the following operating systems:
Windows (64-bit processors);
macOS (64-bit Intel processors);
Linux (64-bit processors)
To run Stata/MP, you can use a desktop computer with a dual-core or quad-core processor, or you can use a server with multiple processors. Whether a computer has separate processors or one processor with multiple cores makes no difference. More processors or cores makes Stata/MP run faster.
For more advice on purchasing/upgrading to Stata/MP or for hardware queries, please contact our sales team.

Stata/SE and Stata/IC differ only in the dataset size that each can analyse. Stata/SE and Stata/MP can fit models with more independent variables than Stata/IC (up to 10,998). Stata/SE can analyse up to 2 billion observations.

Stata/IC allows datasets with as many as 2,048 variables. The maximum number of observations is 2.14 billion. Stata/IC can have at most 798 independent variables in a model.
Comparison of features
Product Features
Stata/IC
Stata/SE
Stata/MP
Maximum number of variables
Maximum number of observations
Maximum number of independent variables
Multicore support
Time to run logistic regression with 5 million obs and 10 covariates Info
Complete suite of statistical features
Publication-quality graphics
Matrix programming language
Complete PDF documentation
Exceptional technical support
Includes within-release updates
For Business License terms and options please click here.
For Educational License terms and options please click here.
Novas recursos do stata
Esta nova versão do Stata é única porque a maioria dos novos recursos pode ser usada por pesquisadores de todas as disciplinas
Listamos abaixo os destaques desta nova versão.
Aqui você também encontra vários tutoriais em vídeo que explicam a forma simples e intuitiva de utilização do Stata. Veja abaixo, os tutoriais mais recentes e também uma lista de todos os recursos disponíveis na atual versão.
Visão geral do Stata
| | | |
| --- | --- | --- |
| | | |
| Converting string variables to numeric | Partial dataset | How to download and install Stata for Windows |
Tour of Stata 15
Tour of the Stata 15 interface
PDF documentation in Stata 15
Bayesian analysis in Stata
Censored Poisson regression in Stata
Endogenous treatment effects in Stata
Graphical user interface for Bayesian analysis in Stata
IRT (item response theory) models in Stata
Japanese and Spanish interface in Stata
Markov-switching models in Stata
Multilevel models for survey data in Stata
Multilevel survival analysis in Stata
New power and sample-size features in Stata
Panel-data survival models in Stata
Postestimation Selector in Stata
Regression models for fractional data in Stata
Satorra–Bentler adjustments for SEM
Small-sample inference for mixed-effects models in Stata
Survey data support for SEM in Stata
Survival models for SEM in Stata
Treatment effects for survival models in Stata
Unicode in Stata
Below you will find a list of all video tutorial resources available. The links will take you to YouTube.
Stata basics
Data management
Graphics
Bayesian analysis
Binary, count, and fractional outcomes
Case–control studies
Classical hypothesis tests
Descriptive statistics, tables, and cross-tabulations
Econometrics
Effect sizes
Factor variables
Immediate commands
IRT (item response theory)
Marginal means, predictive margins, and contrasts
Multilevel mixed-effects models
Multiple imputation
Panel data
Power and sample size
Structural equation modeling
Survey data analysis
Survival analysis
Time series
Treatment effects
O Stata pode ser executado nas plataformas listadas abaixo. Não é necessário especificar o seu sistema operacional quando realizar a sua encomenda, apenas necessita de escolher o executável certo no momento do download.
Veja mais informações sobre como rodar o Stata em computadores dual-core, multicore ou multi processador.
Stata for Windows
Windows 10 *
Windows 8 *
Windows 7 *
Windows Vista *
Windows Server 2016, 2012, 2008, 2003 *
* 64-bit Windows varieties for x86-64 and x86 processors made by Intel® and AMD.
Stata for Mac
Stata for macOS requires 64-bit Intel® processors (Core™2 Duo or better) running macOS 10.9 or newer
Stata for Unix
Linux: Any 64-bit (x86-64 or compatible) running Linux.
For xstata, you need to have GTK 2.24 installed
Hardware requirements
Minimum of 1 GB of RAM for Stata/IC, 2GB for Stata/SE and 4GB for Stata/MP
Minimum of 1 GB of disk space for all versions
Stata for Unix requires a video card that can display thousands of colours or more (16-bit or 24-bit colour)
Stata Documentation
Every installation of Stata includes all the documentation in PDF format. Stata's documentation consists of over 14,000 pages detailing each feature in Stata including the methods and formulas and fully worked examples. You can transition seamlessly across entries using the links within each entry.
Stata Manuals
The Stata 15 documentation is copyright of StataCorp LLC, College Station TX, USA, and is used with permission of StataCorp LLC.
Os estudantes podem adquirir o Stata/MP, Stata/SE e Stata/IC a um preço mais vantajoso. Para mais informações sobre este tipo de licenciamentoclique aqui.
Find out all about Stata's expansive range of statistical features using the table of contents below. Each section links to further details and examples to help users get the best out of their software.
Linear Models
regression
censored outcomes
endogenous regressors
bootstrap, jackknife, and robust and cluster–robust variance
instrumental variables
three-stage least squares
constraints
quantile regression
GLS
Time Series
ARIMA
ARFIMA
ARCH/GARCH
VAR
VECM
multivariate GARCH
unobserved components model
dynamic factors
state-space models
Markov-switching models
business calendars
correlograms
periodograms
forecasts
impulse-response functions
unit-root tests
filters and smoothers
rolling and recursive estimation
Data Management
data transformations
match-merge
import/export data
ODBC
SQL
XML
by-group processing
append files
sort
row–column transposition
labeling
saving results
Longitudinal data/panel data
random and fixed effects with robust standard errors
linear mixed models
random-effects probit
GEE
random- and fixed-effects Poisson
dynamic panel-data models
instrumental variables
panel unit-root tests
Graphics
line charts
scatterplots
bar charts
pie charts
hi–lo charts
contour plots
GUI Editor
regression diagnostic graphs
survival plots
nonparametric smoothers
distribution Q–Q plots
Graphical user interface
menus and dialogs for all features
Data Editor
Variables Manager
Graph Editor
Project Manager
Do-file Editor
Clipboard Preview Tool
multiple preference sets
Documentation
27 manuals
14,000+ pages
seamless navigation
thousands of worked examples
quick starts
methods and formulas
references
Basic statistics
summaries
cross-tabulations
correlations
z and t tests
equality-of-variance tests
tests of proportions
confidence intervals
factor variables
Other statistical methods
kappa measure of interrater agreement
Cronbach's alpha
stepwise regression
tests of normality
Functions
statistical
random-number
mathematical
string
date and time
Internet capabilities
ability to install new commands
web updating
web file sharing
latest Stata news
User-written commands
user-written commands for meta-analysis, data management, survival, econometrics.
Programming features
adding new commands
command scripting
object-oriented programming
menu and dialog-box programming
Project Manager
plugins
Matrix programming—Mata
interactive sessions
large-scale development projects
optimization
matrix inversions
decompositions
eigenvalues and eigenvectors
LAPACK engine
real and complex numbers
string matrices
interface to Stata datasets and matrices
numerical derivatives
object-oriented programming
Embedded statistical computations
Installation Qualification
IQ report for regulatory agencies such as the FDA
installation verification
Accessibility
Section 508 compliance, accessibility for persons with disabilities
Survival analysis
Kaplan–Meier and Nelson–Aalen estimators,
Cox regression (frailty)
parametric models (frailty, random effects)
competing risks
hazards
time-varying covariates
left- and right-censoring, Weibull, exponential, and Gompertz models
Bayesian analysis
thousands of built-in models
univariate and multivariate models
linear and nonlinear models
continuous, binary, ordinal, and count outcomes
continuous univariate, multivariate, and discrete priors
add your own models
adaptive Metropolis–Hastings sampling
Gibbs sampling
convergence diagnostics
posterior summaries
hypothesis testing
model comparison
Power and sample size
power
sample size
effect size
minimum detectable effect
means
proportions
variances
correlations
ANOVA
case–control studies
cohort studies
contingency tables
survival analysis
balanced or unbalanced designs
results in tables or graphs
Treatment effects
inverse probability weight (IPW)
doubly robust methods
propensity score matching
regression adjustment
covariate matching
multilevel treatments
endogenous treatments
average treatment effects (ATEs)
ATEs on the treated (ATETs)
potential-outcome means (POMs)
continuous, binary, count, fractional, and survival outcomes
SEM (structural equation modeling)
graphical path diagram builder
standardized and unstandardized estimates
modification indices
direct and indirect effects
continuous, binary, count, ordinal, and survival outcomes
multilevel models
random slopes and intercepts
factors scores, empirical Bayes, and other predictions
groups and tests of invariance
goodness of fit
handles MAR data by FIML
correlated data
survey data
Latent class analysis
binary, ordinal, continuous, count, categorical, fractional, and survival items
add covariates to model class membership
combine with SEM path models
expected class proportions
goodness of fit
multilevel models
predictions of class membership
Multiple imputation
nine univariate imputation methods
multivariate normal imputation
chained equations
explore pattern of missingness
manage imputed datasets
fit model and pool results
transform parameters
joint tests of parameter estimates
predictions
Survey methods
multistage designs
bootstrap, BRR, jackknife, linearized, and SDR variance estimation
poststratification
DEFF
predictive margins
means, proportions, ratios, totals
summary tables
regression, instrumental variables, probit, Cox regression
Cluster analysis
hierarchical clustering
kmeans and kmedian nonhierarchical clustering
dendrograms
stopping rules
user-extensible analyses
IRT (item response theory)
binary (1PL, 2PL, 3PL), ordinal, and categorical response models
item characteristic curves
test characteristic curves
item information functions
test information functions
differential item functioning (DIF)
Multivariate methods
factor analysis
principal components
discriminant analysis
rotation
multidimensional scaling
Procrustean analysis
correspondence analysis
biplots
dendrograms
user-extensible analyses
Nonparametric methods
Wilcoxon–Mann–Whitney, Wilcoxon signed ranks, and Kruskal–Wallis tests
Spearman and Kendall correlations
Kolmogorov–Smirnov tests
exact binomial CIs
survival data
ROC analysis
smoothing
bootstrapping
Epidemiology
standardization of rates
case–control
cohort
matched case–control
Mantel–Haenszel
pharmacokinetics
ROC analysis
ICD-10
Longitudinal data/panel data
random and fixed effects with robust standard errors
linear mixed models
random-effects probit
GEE
random- and fixed-effects Poisson
dynamic panel-data models
instrumental variables
panel unit-root tests
Multilevel mixed-effects models
continuous, binary, count, and survival outcomes
two-, three-, and higher-level models
generalized linear models
random-intercepts
random-slopes
crossed random effects
BLUPs of effects and fitted values
hierarchical models
residual error structures
DDF adjustments
support for survey data
Binary, count, and limited outcomes
logistic, probit, tobit
Poisson and negative binomial
conditional, multinomial, nested, ordered, rank-ordered, and stereotype logistic
multinomial probit
zero-inflated and left-truncated count models
selection models
marginal effects
Extended regression models (ERMs)
combine endodenous covariates, sample selection, and nonrandom treatment in models for continuous, interval-censored, binary, and ordinal outcomes
Generalized linear models (GLMs)
ten link functions
user-defined links
seven distributions
ML and IRLS estimation
nine variance estimators
seven residuals
Finite mixture models (FMMs)
fmm prefix for 17 estimators
mixtures of a single estimator
mixtures combining multiple estimators or distributions  • continuous, binary, count, ordinal, categorical, censored, truncated, and survival outcomes
Spatial autoregressive models
spatial lags of dependent variable, independent variables, and autoregressive errors
fixed and random effects in panel data
endogenous covariates
analyze spillover effects
ANOVA/MANOVA
balanced and unbalanced designs
factorial, nested, and mixed designs
repeated measures
marginal means
contrasts
Exact statistics
exact logistic and Poisson regression
exact case–control statistics
binomial tests
Fisher's exact test for r &times c tables
Linearized DSGE models
specify models algebraically
solve models
estimate parameters
identification diagnostics
policy and transition matrices
IRFs
dynamic forecasts
Tests, predictions, and effects
Wald tests
LR tests
linear and nonlinear combinations
predictions and generalized predictions
marginal means
least-squares means
adjusted means
marginal and partial effects
forecast models
Hausman tests
Contrasts, pairwise comparisons, and margins
compare means, intercepts, or slopes
compare to reference category, adjacent category, grand mean, etc.
orthogonal polynomials
multiple-comparison adjustments
graph estimated means and contrasts
interaction plots
GMM and nonlinear regression
generalized method of moments (GMM)
nonlinear regression
Simple maximum likelihood
specify likelihood using simple expressions
no programming required
survey data
standard, robust, bootstrap, and jackknife SEs
matrix estimators
Programmable maximum likelihood
user-specified functions
NR, DFP, BFGS, BHHH
OIM, OPG, robust, bootstrap, and jackknife SEs
Wald tests
survey data
numeric or analytic derivatives
Resampling and simulation methods
bootstrap
jackknife
Monte Carlo simulation
permutation tests